Islamophobia and Racialized Harassment on University Campuses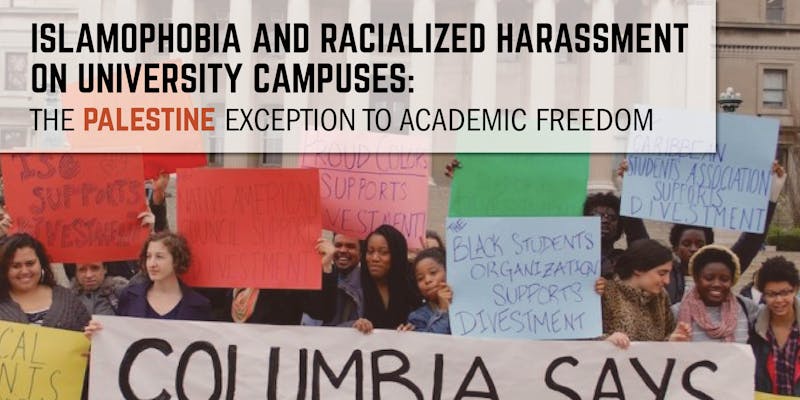 Co-sponsors: Columbia SJP, NYU SJP, Center for Constitutional Rights, National Lawyers Guild, Palestine Legal, American Muslims for Palestine-NJ, CUNY4Palestine

More on the Case of Professor Rabab Abdulhadi:

Across the country and on a global scale, student groups and faculty members who attempt to teach or speak out about the unjust conditions facing Palestinians have collided with "the Palestine exception to free speech." University administrations have become complicit in a McCarthyite campaign to falsely conflate criticism of Israeli and Zionist policies with anti-semitism. Administrations are imposing bureaucratic obstacles, withholding resources, bowing to legal intimidation tactics by right-wing pro-Israel organizations such as Lawfare, or are even failing to address outright bullying, harassment and death threats on social media and in the classroom. In the now raging case of the Duke-UNC Middle East Studies consortium, the federal Department of Education is attempting to subvert basic principles of academic freedom by demanding that curricula and program content be more Israel-friendly and anti-Islam.

Professor Abdulhadi was hired by San Francico State University in 2007 to head and develop a new Arab and Muslim Ethnicities and Diaspora Studies program (AMED), the first of its kind in the country. But SFSU has not fulfilled its promise to provide support to the program, instead caving in to deep-pocketed pro-Israel organizations who accuse Professor Abdulhadi of anti-Semitism because of her support for Boycott, Divest and Sanction (BDS), her work with students at SFSU, and her organizing international conferences on "Teaching Palestine." Professor Abdulhadi's funding has been cut, her requests for approval to travel and pursue research denied, and the vicious harassment and death threats she has undergone online and in her SFSU mailbox are virtually ignored by the administration.

Lawfare's legal suit charging Prof. Abdulhadi and SFSU with creating a hostile climate for Jews on campus was dismissed by a federal judge before trial as without merit. This was a major victory. Now Prof. Abdulhadi is bringing legal action against SFSU for its failure to honor the terms of her appointment and the pattern of racist discrimination against her and her program.

If she wins, it will set a precedent that challenges attempts to repress all those on university campuses who support teaching and learning about Palestine, white supremacy and the history of apartheid.

To support Prof. Abdulhadi's case ( and its implications for other such cases at the City University of New York , Boston University, Rutgers, Fordham and elsewhere) a number of organizations have come together to co-sponsor this symposium and fundraising event for Rabab's legal action. In addition to a keynote by Professor Abdulhadi, a panel representing academics (students and faculty) and civil rights attorneys will address the profound issues of academic freedom and campus-based struggles against Islamophobia, misogyny and racism that her case exposes. We hope you and your organization will join us in this vital project.